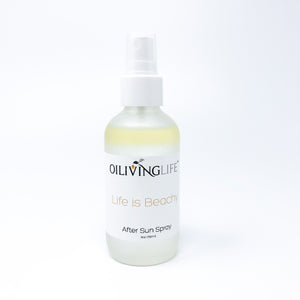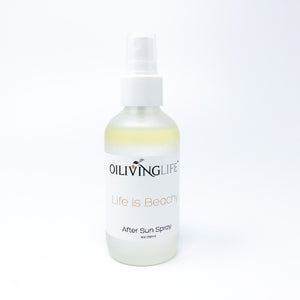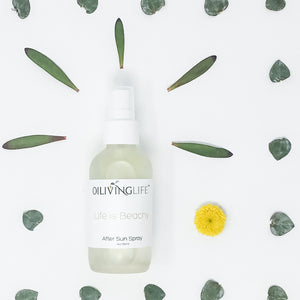 Life is Beachy is an amazing hydrating after sun spray! Cooling Peppermint Essential Oil, regenerative and skin healing Helichrysum Essential Oil and calming Lavender Hydrosol will bring a natural relief to hot, sun exposed skin. Keep it refrigerated if extra cooling effect is wanted.
Each ingredient is included for a therapeutic reason...
Steam Distilled Lavender Flower has antibacterial and anti-inflammatory properties that are good for reducing inflammation and redness in nature. Lavender hydrosoil is among the most popular hydrosols used in aromatherapy. Very useful for beauty, it is gentle, soothing and safe to use for those with allergies, scent irritations.
Kukui nut oil is a natural moisturizer that has been used for centuries in Hawaii. It is produced by cold pressing the kukui nut (or candlenut) tree. It is a rich source of nutrients including fatty acids, various minerals, vitamins and natural antioxidants that can help soothe irritated skin and even heal wounds.
Helichrysum essential oil is a profound skin healer. It improves skins luster and speeds healing and regeneration. The compounds that help make this possible are helichrysums own diketone molecules, they're very well known for helping the body stimulate new skin growth. And they exist in abundance in this essential oil.
Peppermint essential oil has a natural cooling and numbing agent: menthol, that helps numb and cool the pain by sunburn. It also helps hydrate the burned skin and release heat. 
Directions: Spray liberally where desired to relief hot or sun-exposed skin. Shake gently, no fillers or emulsifiers added.
There are no fillers in this spray, all-natural, organic ingredients.  All Essential Oils used in our products are organic, cold-pressed or steam distilled. No animal testing is conducted on our products or ingredients. All our products are made in small batches in the USA.
Ingredients: Distilled Spring Water, Organic steam-distilled Lavandula angustifolia (lavender) flowers, Hamamelis virginiana linné (Witch Hazel) extract, Vegetable Glycerin, Aleurites moluccana (Kukui) Nut Oil, Vitamin E, Lavandula angustifolia (Lavender) Essential Oil, Mentha piperita (Peppermint) Essential Oil and Helichrysum italicum (Helichrysum) Essential Oil.
This information has not been evaluated by the Food and Drug Administration. This information is not intended to diagnose, treat, cure, or prevent any disease.
---