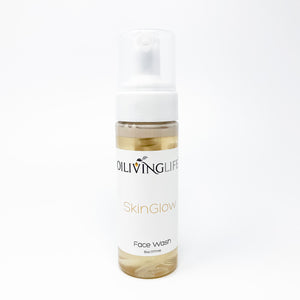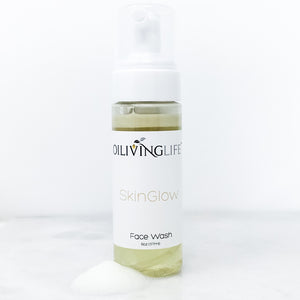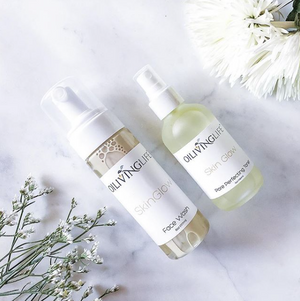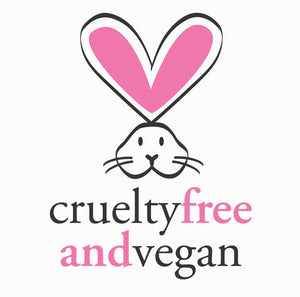 SkinGlow Face Wash is a foaming vegetable oil based blend that helps clarify, hydrate and tone the skin, ingredients are extra-gentle and help maintain skin's natural balance which means it's superb for ALL skin types!
Each ingredient is included for a therapeutic reason...
Steam-distilled Lavender Flower has antibacterial and anti-inflammatory properties that are good for reducing inflammation and redness in nature. Lavender hydrosoil is among the most popular hydrosols used in aromatherapy. Very useful for beauty, it is gentle, soothing and safe to use for those with allergies, scent irritations.
Castile Soap is a naturally pure soap. It won't clog pores, actually opens pores, unclogging them and allowing for a deeper clean.
Pumpkin Seed Oil is rich in vitamin E, zinc, omega 3- and 6- fatty acids as well as antioxidants, it has tremendous benefits for the skin in terms of retaining moisture, fighting free radicals and maintaining a youthful appearance.
Directions: Apply face wash to damp skin in a circular motion and rinse. This amazing foam wash gently cleanses and removes makeup and impurities. Use morning and night. 
There are no fillers in this Face Wash, all-natural, organic ingredients.  All Essential Oils used in our products are organic, cold-pressed or steam distilled. No animal testing is conducted on our products or ingredients. All our products are made in small batches in the USA.
Ingredients: Distilled Spring Water, Organic steam-distilled Lavandula angustifolia (lavender) flowers, Cucurbita pepo (Pumpkin Seed) Oil, Vegetable Glyceryn, Sodium Cornate (saponified organic coconut oil), Sodium Sunflowerate (saponified organic sunflower oil), Rosmarinus officinalis (Rosemary) Extract, Lavandula angustifolia (Lavender) Essential Oil, Copaifera langsdorffii (Copaiba) Essential Oil, Mentha spicata (Spearmint) Essential Oil and Melaleuca alternifolia (Tea Tree) Essential Oil.
This information has not been evaluated by the Food and Drug Administration. This information is not intended to diagnose, treat, cure, or prevent any disease.
---