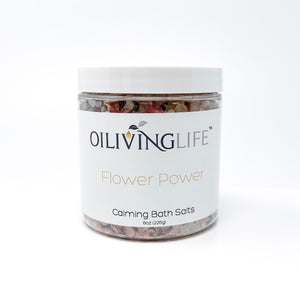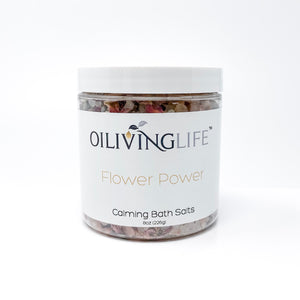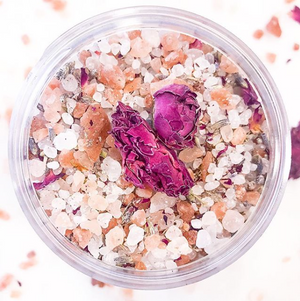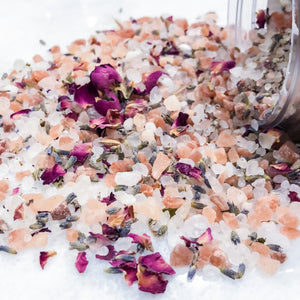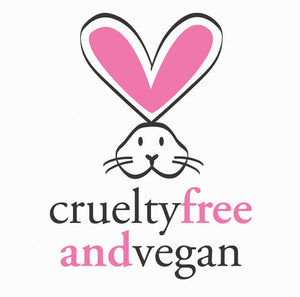 Enjoy a nice warm bath and let go of what no longer is serving you with our Flower Power Bath Salts. A blend of Pink Himalayan, Dead Sea Salts, Dried Rose, Hibiscus and Lavender Flowers paired with calming and soothing Essential Oils designed to detoxify, improve circulation and relax the mind and body. Made with all natural, plant-based, clean and organic ingredients. Ideal for all skin types, Flower Power bath salts promotes cell regeneration and moisture retention, helping to repair dry and irritated skin. When you find yourself feeling overwhelmed, stressed and energetically heavy, try our Flower Power Bath Salts! You will feel much lighter and calmer afterward.
Each ingredient is included for a therapeutic reason...
Pink Himalayan Salt widely touted for its mineral content, containing 84 minerals and elements that help to reduce acidity and inflammation in your body. Using Himalayan salt rocks helps to balance the pH level of your skin, increases blood circulation and improves the look and feel of your skin. Himalayan salt is relatively high in iron, magnesium, phosphorus, calcium, potassium and chloride. It also contains traces of boron, fluoride, iodine, zinc, selenium and copper without chemical processing or refinement.
Dead Sea Salt contains 21 minerals including magnesium, calcium, sulfur, bromide, iodine, sodium, zinc and potassium. With its detoxifying and disinfectant properties, dead sea salt purifies the skin's pores by driving out all the dead cells, dirt, pollution, stale sebum and germs.
Rose Flower have some of the best anti-inflammatory and scar reducing properties. They reduce redness and calm the skin. High in vitamin C, they help to stimulate collagen and are high in vitamin E. Plus it's very moisturizing, have astringent and antibacterial properties.
Hibiscus Flower has a magical reputation for increasing skin elasticity to give a stunning natural youth-boost. Hibiscus is rich in antioxidants, called anthocyanocides that helps fight skin-damaging free radicals.
Lavender Flower contains therapeutic benefits that help calm the mind and provide relief for insomnia, pain, stress and agitation. It contains powerful antioxidants that will nourish the skin as well as help suck out sebum and toxins from deep within skin pores.
There are no fillers in this hair/body spray, all-natural, organic ingredients.  All Essential Oils used in our products are organic, cold-pressed or steam distilled. No animal testing is conducted on our products or ingredients. All our products are made in small batches in the USA.
Directions: Add 1/4 of the bottle per warm bath and let dissolve for a minute or two and enjoy it. 
Ingredients: Sodium Chloride (Himalayan Pink Salt), Sodium Chloride (Dead Sea Salt), Organic Dried Red Rose Petals, Organic Dried Lavender Flowers, Organic Dried Hibiscus Petals and Lavandula angustifolia (Lavender) Essential Oil.
This information has not been evaluated by the Food and Drug Administration. This information is not intended to diagnose, treat, cure, or prevent any disease.