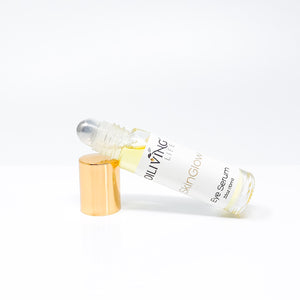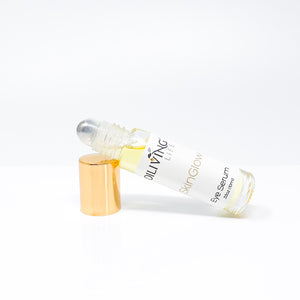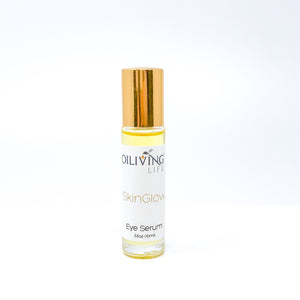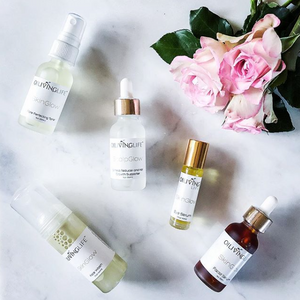 EyeGlow Serum provides eye area hydrating, soothing and nourishing benefits. Perfect for correcting damage on the very sensitive skin around the eyes. This light and refreshing serum is formulated with an amazing anti-inflammatory, antioxidant, stimulant and clarifying Essential Oils blend. 
Each ingredient is included for a therapeutic reason...
Helichrysum Essential Oil is well-known for its ability to help in anti-aging efforts. It contains special properties that make it a powerful antioxidant. Highly effective in clearing up skin irregularities. significant benefits
Baobab Seed Oil is an excellent skin moisturizer, contains Omega 3, 6 and 9 fatty acids which contribute towards maintaining a healthy skin. Rich in antioxidants, it prevents the skin from free radical damage.
Rose Hip Oil is a rich amber color oil loaded with essential fatty acids that help to regenerate skin cells and to repair damaged skin tissue. Contains vitamin E, C, D and B-carotene, a form of vitamin A. It helps to improve the appearance of scars, wrinkles and sun damaged skin.
Argan Oil is a great source of vitamin A and vitamin E helping to boost cell production while promoting healthy skin. It is also packed with omega-6 fatty acids and linoleic acid. Research shows that when applied to skin, argan oil benefits include easing inflammation while moisturizing the skin.
Directions: Apply under and around eye area. Best if used at night before bed. 
There are no fillers in this Eye Serum, all-natural, organic ingredients.  All Essential Oils used in our products are organic, cold-pressed or steam distilled. No animal testing is conducted on our products or ingredients. All our products are made in small batches in the USA.
Ingredients: Rosa canina (Rose Hip) Oil, Argania spinosa (Argan) Oil, Cocos nucifera (Coconut) Oil, Adansonia (Baoba) Seed Oil, D-Alpha-Tocopherol (Vitamin E), Citrus lemon (Lemon) Essential Oil, Boswellia carterii (Frankincense) Essential Oil, Lavandula anguvstifolia (Lavender) Essential Oil and Helichrysum italics (Helichrysum) Essential Oil. 
This information has not been evaluated by the Food and Drug Administration. This information is not intended to diagnose, treat, cure, or prevent any disease.