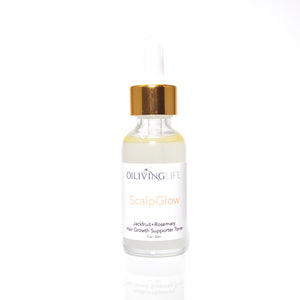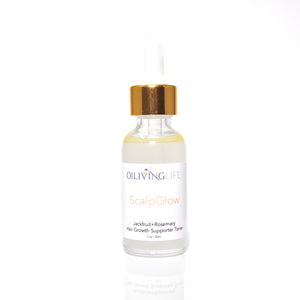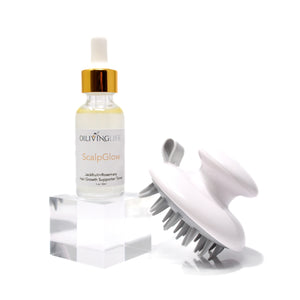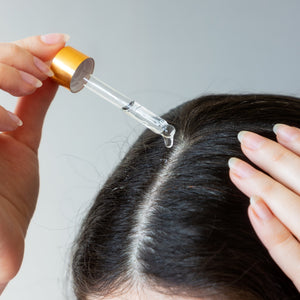 Rosemary + Jackfruit Extracts

Promotes Less Oily Scalp

Encourages Healthy Hair Growth

ScalpGlow organic essential oils proprietary blend and powerful botanical extracts will balance scalp helping hair roots get back on track to producing the right amount of sebum, promoting a less oily scalp and naturally encouraging healthy hair growth.
Key Bioactives:
Jackfruit extract can promote hair growth by increasing blood circulation, which is essential for healthy hair growth. It also contains vitamin A, which helps prevent dryness and brittle hair.

Rosemary Oil stimulates cell division and dilates blood vessels and, in turn, stimulates hair follicles into producing new hair growth. 

Directions: Shake before applying. Use dropper to apply toner directly on scalp. Gently massage it. No rinse needed. 
Best if used after cleansing hair
Perfect for pairing with our Stimulating Scalp Brush.

PETA Certified Vegan and Cruelty Free.
Free of parabens, phthalates, sulfates, fillers, silicones & artificial fragrance. No animal testing is conducted on our products or ingredients. All our products are made in small batches in the USA.

Ingredients: Organic steam-distilled Lavandula angustifolia (lavender) flowers, Hamamelis virginiana linné (Witch Hazel) extract, Artocarpus Heterophyllus (Jackfuit) Extract, Radish Root Ferment Filtrate and proprietary essential oil blend

This information has not been evaluated by the Food and Drug Administration. This information is not intended to diagnose, treat, cure, or prevent any disease.
---