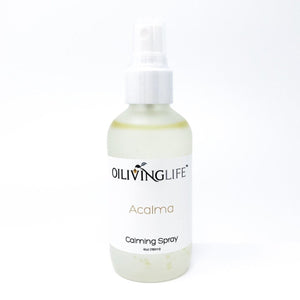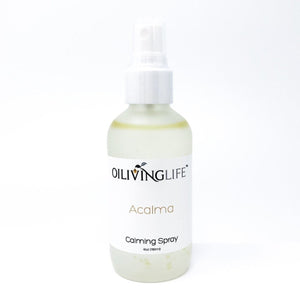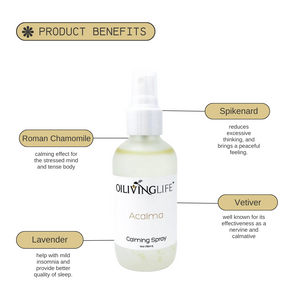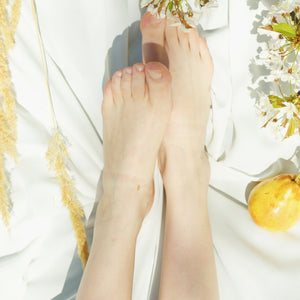 Acalma is an amazing calming essential oil blend perfect for bedtime or creating feelings of patience and peace. It also may help balance emotions and relieve worries, while soothing tense situations. 
Each ingredient is included for a therapeutic reason...
Spikenard Spikenard essential oil relaxes the mind, reduces excessive thinking, and brings a peaceful feeling. Its aroma is unique, sweet, earthy, warm, and deep.
Lavender essential oil is one of the most well studied in terms of its relaxing effects. One study found that lavender oil calmed the nervous system, heart rate, and skin temperature as well as changing brain waves to a more relaxed state. Lavender essential oil can also help with mild insomnia and provide better quality of sleep.
Roman Chamomile essential oil not only soothes the mind, but it can help soothe anger and irritability on those days when you are feeling agitated or find yourself in the middle of a tense situation. Overall calming effect for the stressed mind and tense body, Roman Chamomile essential oil can also be used to ease feelings of grief, anger, discontent or over-sensitivity, as well as feelings of anxiousness and restlessness or trouble sleeping.
Vetiver essential oil is a dense, aromatic grass where every part of the plant is used. It is a natural healing herb that is particularly well known for its effectiveness as both a nervine and calmative, giving it the capability of settling the nervous system and calming the mind.
Directions: Spray liberally where desired. Use as body, room or linen spray. Shake gently, no fillers or emulsifiers added.
There are no fillers in this spray, all-natural, organic ingredients.  All Essential Oils used in our products are organic, cold-pressed or steam distilled. No animal testing is conducted on our products or ingredients. All our products are made in small batches in the USA.
Ingredients: Distilled Spring Water, Hamamelis virginiana linné (Witch Hazel) extract, Citrus bergamia (Bergamot) Essential Oil, Lavandula Angustifolia (Lavender) Essential oil, Copaifera officinalis (Copaiba) Essential Oil, Vetiveria zizanoides (Vetiver) Essential Oil, Anthemis nobilis (Roman Chamomile) Essential Oil and Nardostachys jatamansi (Spikenard) Essential Oil.
This information has not been evaluated by the Food and Drug Administration. This information is not intended to diagnose, treat, cure, or prevent any disease.
---