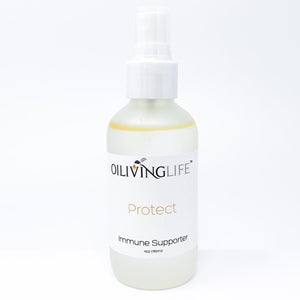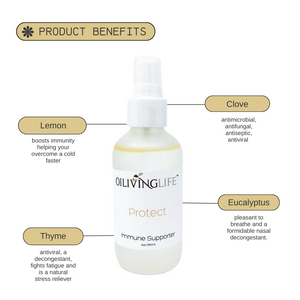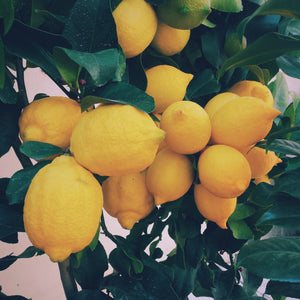 Protect is an immune supporter essential oil blend. Essential oils used in this amazing blend have multiple studies for their powerful antibacterial, antiviral, anti-fungal properties. Incorporating Protect spray essential oil blend into your daily routine can help you keep your immune system stronger and speed up your recovery time from colds!
Each ingredient is included for a therapeutic reason...
Lemon essential oil has antibacterial, antioxidant and anti-inflammatory properties, which not only makes it ideal for fighting viruses, but also for reducing cold and flu symptoms such as coughing and congestion. Lemon essential oil stimulates your white blood cell production and boosts immunity helping your overcome a cold faster. 
Clove essential oil has antimicrobial, antifungal, antiseptic, antiviral and stimulating properties. These properties give this essential oil the power to combat both bacterial and viral illnesses. 
Thyme essential oil is antiviral, a decongestant, fights fatigue and is a natural stress reliever and antidepressant which makes it a perfect essential oil for colds and fighting the flu. Thyme oil is one of the strongest antioxidants known, and it has been used as a medicinal herb since ancient times. 
Directions: Spray liberally where desired. Use as body, room or linen spray. Shake gently, no fillers or emulsifiers added.
Free of parabens, phthalates, sulfates, fillers, silicones & artificial fragrance. No animal testing is conducted on our products or ingredients. All our products are made in small batches in the USA.
Ingredients: Distilled Spring Water, Hamamelis virginiana linné (Witch Hazel) extract, Citrus limonum (Lemon) Essential Oil, Cinnamomum verum (Cinnamon Bark) Essential Oil, Syzygium aromaticum (Clove), Eucalyptus radiata (Eucalyptus) Essential Oil, Melaleuca alternifolia (Tea Tree) Essential Oil and Thymus vulgaris var.Linalool (Thyme) Essential Oil.
This information has not been evaluated by the Food and Drug Administration. This information is not intended to diagnose, treat, cure, or prevent any disease.
---