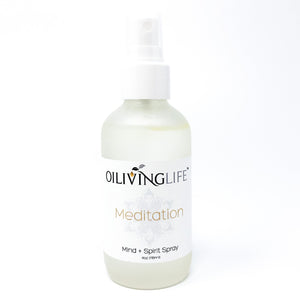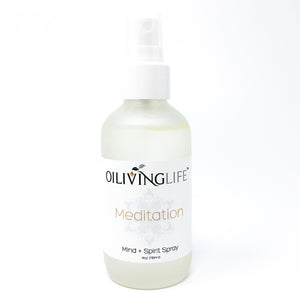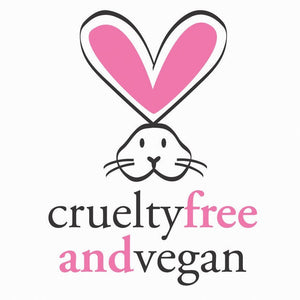 Our Meditation Spray is formulated to promote relaxation and creating a balanced and mindful environment perfect for Meditation time.
During meditation, aromatherapy inhalation can help stimulate the senses, creating a perfect ambient space setting your body, mind & soul.
Each ingredient is included for a therapeutic reason...
Frankincense essential oil is the most powerful essential oil for the spirit.  It promotes grounding, balancing, and openness. Frankincense can help you connect with your spiritual self.
Sandalwood essential oil is one of the best essential oil for meditation.  It is extremely cleansing and can clear negative thoughts and stress that cloud your mind.  If you are experiencing inner noise and a busy mind that is taking away from your ability to focus, relax, and meditate, sandalwood can help clear the chatter.
Sage essential oil is used for cleansing negative energy, and welcoming positivity into your home. Sage essence attaches to negative energy and folds it back in itself to transform the negative energy into positive energy.
Cedarwood essential oil has long been used to give the heart courage, and enhance connection to the spirit, insight and good judgement. Cedarwood essential oil helps the mind focus on meditation while helping to reduce anxiety and stress. This oil will help to create balance.
Directions: Shake gently, no fillers or emulsifiers added. Use as body, room, linen or yoga mat spray. 
There are no fillers in this spray, all-natural, organic ingredients.  All Essential Oils used in our products are organic, cold-pressed or steam distilled. No animal testing is conducted on our products or ingredients. All our products are made in small batches in the USA.
Ingredients: Distilled Spring Water, Hamamelis virginiana linné (Witch Hazel) extract, Cedrus atlantica (Cedarwood) Essential Oil, Boswellia carterii (Frankincense) Essential Oil, Santalum spicatum (Sandalwood) Essential Oil, Commiphora myrrha (Myrrh) Essential Oil, Salvia officinalis (Sage) Essential Oil, Lavandula angustifolia (Lavender) Essential Oil and Himalayan Pink Salt.
This information has not been evaluated by the Food and Drug Administration. This information is not intended to diagnose, treat, cure, or prevent any disease.