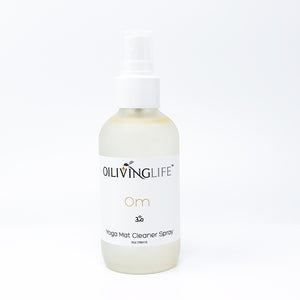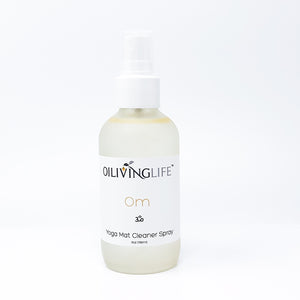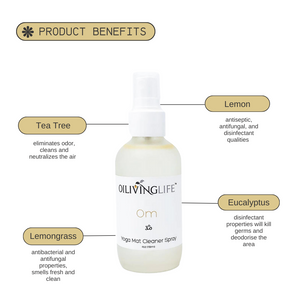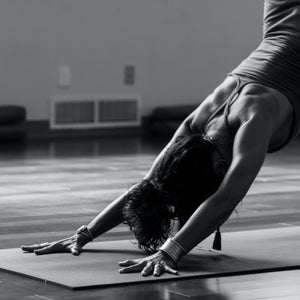 Om ॐ is a powerful all-purpose disinfectant blend. Essential oils can be a helpful part of your regular cleaning routine. Not only can essential oils be used to cleanse surfaces and purify the air, but they leave behind a pleasant aroma that will instantly make your home or workplace feeling clean and refreshed without the toxic chemicals found in many cleaners. Om ॐ Yoga Mat Cleaner is also a great HAND PURIFIER!
Each ingredient is included for a therapeutic reason...
Lemon essential oil has antiseptic, antifungal, and disinfectant qualities making it a viable green cleaning providing a natural fragrance that can improve the quality of air in your home and boost your mood!
Eucalyptus essential oil disinfectant properties will kill germs and deodorise the area. Eucalyptus Oil is a powerful anti-microbial, making it ideal for preventing the spread of bacterial and viral infections.
Apple Cider Vinegar due to it's pH this vinegar makes inhospitable environment for many microorganisms. It is all natural, easily biodegradable and environmentally friendly.
Directions: Spray liberally around your home where disinfectant cleaning needed. Shake gently, no fillers or emulsifiers added.
Free of parabens, phthalates, sulfates, fillers, silicones & artificial fragrance. No animal testing is conducted on our products or ingredients. All our products are made in small batches in the USA.
Ingredients: Distilled Spring Water, Hamamelis virginiana linné (Witch Hazel) extract, Citrus limonum (Lemon) Essential Oil, Cymbopogon flexuosus (Lemongrass) Essential Oil, Melaleuca alternifolia (Tea Tree) Essential Oil, Eucalyptus radiata (Eucalyptus) Essential Oil and Organic Apple Cider Vinegar.
This information has not been evaluated by the Food and Drug Administration. This information is not intended to diagnose, treat, cure, or prevent any disease.