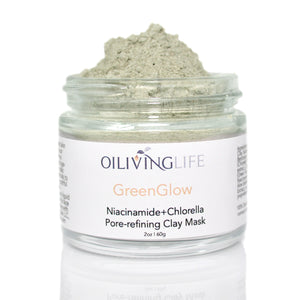 Pore-refining Clay Mask

Niacinamide+Chlorella Extract
Youthful Appearance+Glowing complexion
GreenGlow is perfect for blemishes prone skin it cleanses, purifies, and firms skin with mineral-rich clays, Niacinamide, and antioxidant-rich botanicals, removing dulling dead skin cells and excess oil while preserving the skin's youthful appearance for a radiant, glowing complexion.

Key Bioactives:
Niacinamide is highly beneficial for skin health, particularly for those dealing with oily or aging skin. It helps regulate sebum production, reduce breakouts, and minimize pores. This versatile ingredient can be used by all skin types, and is suitable for addressing numerous skin concerns.
Chlorella's antioxidant and Vitamin B and C content accelerate the rate of skin cells' regeneration, allowing for more luminous, youthful-looking skin. In addition, Chlorella is an effective treatment for skin and wound healing due to its potent concentration of vital vitamins and minerals.
French Green Clay is renowned for its astringent and firming effects. As it dries on the skin, its constricting effects tighten pores while simultaneously promoting increased blood circulation, resulting in a more defined, lifted look. Regular use of French green clay can help preserve skin elasticity, reducing the visibility of fine lines.
Directions: Mix well parts of clay with any liquid of your choice to create a paste. Apply to face avoiding eye area. Let it dry and remove with warm water.
TIP: Take home our Handmade Face Mask Bowl
PETA Certified Vegan and Cruelty Free.
Free of parabens, phthalates, sulfates, fillers, silicones & artificial fragrance. No animal testing is conducted on our products or ingredients. All our products are made in small batches in the USA.
Ingredients: French Green Clay, Kaolinite (White Clay), Bentonite Clay, Sea Clay, Chlorella (Chlorella Pyrenoidosa) extract, Ascophyllum Nodosum (Kelp) extract, Camellia sinensis (Green Tea) extract, Niacinamide (Vitamin B3), Aloe Barbadensis (Aloe Vera) Extract and Essential Oil proprietary blend

This information has not been evaluated by the Food and Drug Administration. This information is not intended to diagnose, treat, cure, or prevent any disease.
---